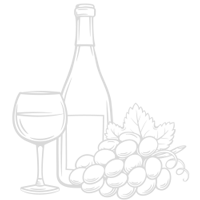 Sedona's Scenic Wine Country Tours
ALCANTARA ESTATE VINEYARDS
This amazing tour takes you to one of the most pristine and beautiful settings, Alcantara Vineyard, the largest estate vineyard of the region. The vineyard produces about 15 different wines annually, ranging from fruity whites to big and bold reds.
The property is the confluence of the Oak Creek and the Verde River. This connection point of two waterways, the confluence, inspired the name for one of Alcantara Vineyard's finest wines. In the limestone cliffs adjacent to where these rivers meet, you will see cliff dwellings dating back to the Anasazi and Sinagua Indian cultures.
A Multi-Vineyard & Winery Experience
For those of you wanting to enjoy local wines at the vineyards, this is your perfect tour. On this tour, we take you to two of these vineyards, located in Page Springs.
Enjoy some of the majestic red rock scenery including canyon, bluff and red rock vista, as you head out to the area where wine making started in Northern Arizona.
This 3-hour tour allows you to get a taste of the different wines and wine making styles of the wines made along the Verde Valley Wine Trail.
Wine, Food, Spirits & Shopping in "Old Town"
Old Town Cottonwood is the historic area of Cottonwood, the center of wine country. Nestled in about a five-block stretch are some of the areas finest restaurants, four wine tasting rooms and an array of interesting shops, galleries and antique stores.
During the tour, you will have the choice of visiting Arizona Stronghold, the state's largest vineyard, or visit across the street to Pillsbury Winery, owned by the former Hollywood director Sam Pillsbury. Down the street are two additional options to choose from, Burning Tree Cellars and Fire Mountain Cellars.
The Flavors of Historic Jerome
Prior to Arizona becoming a state in 1912, Jerome was one of the wildest towns in Arizona. Jerome is a happening town with great restaurants (our favorite is The Haunted Hamburger), interesting and unique galleries, unusual architecture, historic buildings, a "sliding" jail, a haunted hotel, an interesting mining museum, two cool bars in which to meet the real locals and several wine tasting rooms.
On this tour, you have the opportunity to sample wines from Echo Canyon, the first vineyard in Northern Arizona. And if you are a fan of the bands Tool, Pucifer, or A Perfect Circle, you will want to visit James Maynard Keenan's place Caduceus Cellars. Cellar 433 has an incredible selections of both red and white wines, ports, and sparkling wines, with one of the most magnificent views around.
The Terrior of the Verde Valley Wine Trail
Experience the flavor of Arizona with your eyes as you marvel at the beautiful expansive landscape and with your palette, as you sip wines from across the Verde Valley. No matter what type of wine you like, you are sure to find many wines on this tour that meet your fancy.
Whether you wish to go down to Alcantara Vineyard on the Verde River or visit in Jerome, or anything in-between, this tour gives you that flexibility. We will pick you up at any place you are staying in Sedona and take you to wherever you want to go.
Sedona Wine Lover's Experience
Spend an entire day, or most of it, seeing beautiful red rock vistas, sampling delicious local wines, all the while being fully guided, taken care of and educated on all you may wish to know about this region.
With over a twenty wine labels being produced in Northern Arizona, our wine country is a big business and becoming a thriving part of our economy. This wine sampling extravaganza has many choices and you will have a chance to savor nearly 25 different wines from five different vineyards.
This 7-hour tour gives you the most time and flexibility to enjoy wines from anywhere along the Verde Valley Wine Trail, from Jerome to Cottonwood, Sedona to Clarkdale and everything in-between.
Sedona & Wine Bachelorette Special Tour
So you are getting married or your best girlfriend is getting married? Celebrate the occasion by enjoying the majestic red rock beauty of Sedona and kicking up those heels with us and wine! We offer the most extraordinary wine tours in the business, giving you more flexibility on the tour than any other wine tour operator will in the area for your bachelorette party.
This is our longest wine tour experience. At 8 hours, it is also the best value, especially if you have a group of 6 or more. This is the only tour we offer that requires a minimum of 6 people to attend. This tour gives you the most time and flexibility to enjoy wines from anywhere along the Verde Valley Wine Trail, from Jerome to Cottonwood, Sedona to Clarkdale and everything in-between.
Step On Guide Services
We at Wine Tours of Sedona understand that sometimes you are coming to Sedona as part of a large group. For those coming here in their own motorcoach buses, we offer "step on" guide services. Get all the same benefits of our regular tours, though our experienced wine guides will "step on" your vehicle, directing your driver where to go while educating your group about the wines, vineyards, and overall history of the area. Choose from any of our current tour options, but with your group of twenty or more, get a 50% discount when you utilize step our services as a "step on" guide.
If you are going on a wine tour, you have the option of us including the costs of the wine tastings into your tour or to have your group pay as you go. Our Northern Arizona Scenic Micro-Brewery Tours include your beer tastings, as our Raw Chocolate Tours of Sedona include your chocolate tastings.
In this capacity, whether you are coming to the area with one motorcoach bus with 50 people, or have a group of 300 people or more, encompassing 6+ buses, we will offer you a "step on" guide for every vehicle of your group. In this way, your group gets to stay together, all the while being directed to the best wineries, micro-breweries, chocolate shops, restaurants, and sights of Sedona along the way.
This is our best value for large groups coming to Sedona.
Please use a stock image of a large motorcoach bus for the image.

Create the same book now button as with the others, but allow that to go to a page that lists all our tour options.
Vino Di Sedona Wine & Food Sampling
75 Minutes $99 / adult

Special for guests of Wine Tours of Sedona, Vino Di Sedona offers a charcuterie board with three cured Italian meats, three cheeses, bread, fruit, olives and figs. Alternatives for special dietary preferences available. Pairing wine with their food, also offered is an AZ flight (12 ounces of wine), sweet or dry – flexibility and alternatives are of course available to best suite your palette. Adding this to your tour gives you the enjoyment of an additional 75 minutes to your wine sampling experience plus everything listed above for just $99 per adult.
Wine Tours of Sedona Lunch | Dinner
$22 / person $55 / person
Whether your tour is starting mid-day or in the later afternoon, Wine Tours of Sedona is happy to ensure that your stomach is getting properly nourished while out on your experience with us. Based on the tour itinerary and the stops we choose to make, you have an array of options available to you for lunch or dinner. All you need to is tell us when you are hungry and what you are in the mood for, we take care of the rest.
Scenic Sedona or Sunset 2hrs.
2 Hours $95 / person
This is a perfect add on to any of our wine tours for those here for just a short while but who also wish to see the grandeur of Sedona and our red rock formations. We will share with you some of Sedona more magical points of interest. If you choose to add this as a sunset option, we ensure that your are at the optimum viewing angle and location to see the beauty of a Sedona sunset.
Scenic Sedona or Sunset 3hrs.
3 Hours  $125 / person
If you have just a little more time and wish to really see a greater degree of Sedona, this is the perfect ad on for your wine tour with us. As we started above, we will share with you the magic of Sedona rust colored rock formations, all the while educating you about the geology, flora, fauna, and national history of the area. Like our two hour version, this too can be designed so you may experience a magnificent sunset. The choice is really up you.
Ancient Ruins of the Verde Valley
4 Hours $150 / person

For those interested in ancient cultures and are wishing to learn more how early Native Americans lived in this area over 1,000 years ago, this is the perfect add on to your wine tour. With literally dozens of ruin sites in the area, we give you the option of going to the top three, most easily assessable ruins. No need to worry about steep cliffs or hiking, we take you right there. On this fun and informative tour, we share with the different types of structures they made their home. You are sure to be fascinated how these early cultures were able to live so long ago. If you wish to see some of the sights of Sedona as well, we are happily to incorporate this into your tour.
Get a relaxing One Hour Massage
1 Hour $150 / person

So what can be better than a massage while visiting Sedona? A place known for its red rocks, delicious wines, and incredible food – and array of talented massage therapists. Yes, there are many places in which to choose to get a massage while visiting Sedona. But we only steer you to Sedona's very best massage therapists, those with the experience and truly hands on healing abilities. Experience for yourself how an invigorating and relaxing massage can give you the rejuvenation you are looking for while here. And best of all, you don't even need to leave your hotel room, they come directly to you.