Hello, I'm Jim Reich, the driving force behind Wine Tours of Sedona. My journey into this vibrant endeavor was sparked by my unwavering passion for the captivating beauty of northern Arizona, a place I call home. The intricate geology, the vibrant flora and fauna, and the incredible wines that grace our region have all woven themselves into the tapestry of my heart.
My entrance into this industry was born from the fusion of my love for the land and the desire to share its wonders with others. I recognized that this endeavor could not only fulfill my personal passions but also bring about a positive economic impact on our community. Supporting local businesses, from vineyards to charming boutiques, became an integral part of my mission – a commitment to fostering growth within the very community that shapes our experiences.
At Wine Tours of Sedona, our offerings are a symphony of experiences, carefully curated to introduce you to the mesmerizing landscapes, the tantalizing wines, and the stories etched in every corner of this land. We specialize in crafting both hiking and wine tours, each thoughtfully designed to cater to the unique aspirations of our clients.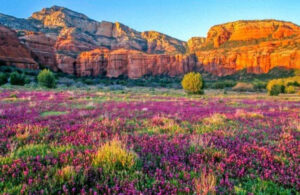 Our tours are more than just a journey; they're an immersion into the soul of Sedona. Through personalized hiking tours, I delve into the region's geology, flora, fauna, and natural history, sharing my passion and knowledge with every step. And when it comes to wine tours, we don't just introduce you to the wines; we guide you through an experience that marries the beauty of the land with the artistry of local winemakers.
What sets us apart is the convergence of passion and intimacy. I am not just a guide; I am a fellow enthusiast, a companion on your journey. Our tours are never standardized; they're crafted with meticulous attention to your desires, creating memories that are uniquely your own. Whether you're exploring Sedona's trails or savoring its wines, the experience is an extension of your persona.
At the heart of Wine Tours of Sedona is a sense of pride – pride in our community, pride in our offerings, and pride in the connections we foster. I'm immensely proud of the lasting impact we've had on both visitors and our local partners. Through our tours, we've bridged the gap between exploration and appreciation, breathing life into the concept of sustainable tourism that benefits all.
I want our potential clients, followers, and fans to understand that Wine Tours of Sedona isn't just a tour company; it's a vessel of passion and connection. It's a journey that encompasses not only the breathtaking landscapes but also the shared joy of discovery. As you traverse Sedona's trails or relish its wines, know that you're stepping into an experience designed to stir your heart, engage your senses, and create memories that will stay with you for a lifetime.