Welcome from Jim
Happy New Year to my valued community!
Sedona is seeing beautiful seasonal weather, mild compared to most of the country. We are very blessed to enjoy the four seasons mother nature gives us. Our winters tend to be sunny and gorgeous when the light snows come. We never have to deal with black slush or shoveling our driveways. We get to enjoy what looks very much like powdered sugar on the glorious red rocks and a few days a year we can actually make a snowman!
This is a perfect time for visiting our wineries since they are a fantastic place to spend a chilly afternoon. One of my greatest joys is sharing all the magic Sedona has to offer. From our eateries, to galleries to entertainment options, there is something for everyone who visits.
That being said, my wish for each of you in 2023 is to experience something magical that you've never experienced before. I wish for you to have love, health and peace in your heart.
There is a great quote by Galileo…."Wine is sunlight, held together by water."
I hope to see you soon and share a glass of sunlight with you this winter!
Blessings to you and yours,
Jim
________________________________________________________
Jan 2023: Featured Vineyard
WINTER: A TIME TO WINE DOWN
Featured Vineyard
Cove Mesa Vineyard
Owned and operated by Emil and Cindy Molin, their first estate vineyard is located on Cove Mesa, a limestone outcropping in Cornville in the Verde Valley. Cove Mesa is a family-owned winery producing high quality, elegant wines inspired by passion, and artfully crafted in the old-world style to showcase their unique terroir.
With a fabulous new wine tasting room in Cornville, Arizona (just about 30 minutes drive from Sedona) this winery is gaining speed with their local reputation for producing Sedona wines with character. Their 2020 vintage is 100% Arizona fruit, with the grapes being sourced from the Verde Valley, and the Willcox AVAs (American Viticultural Area). These two wine growing regions highlight Arizona's diverse climates and soil conditions. Currently Emil and Cindy have 11,400 vines of their own. When touring Sedona Cove Mesa Vineyard is a definite must see.
Along with their fine wines, Cove Mesa offers charcuterie boards, vegan and gluten free options, cheese plates, flatbread pizzas and several other menu items to enjoy. They also offer an outdoor porch where the seating sports scenic views of the Verde Valley. Great news is the porch is pet friendly just like Wine Tours of Sedona. This is one winery we include when we tailor a wine tour to include your fur baby. As the premier Sedona wine tour company, we'd love to introduce you to Cove Mesa Vineyard and "Wine Down" with you this winter.
Cove Mesa has partnered with Chef and restaurant owner John Ramalgi. Their tasting room is now open to book special events for 20-80 people! Everything from wedding events, rehearsal dinners, bridal showers, bachelor parties, to baby showers, birthdays, anniversaries and more. Contact Cindy at 928-641-4693 to plan your event at this 3000+ square foot event venue.
During the months of January and February, Cove Mesa is hosting "Social Nights" at their tasting room in Cornville, every Friday from 12:00pm to 8:00pm. If you're in the Sedona area, this is a great way to have some fun during this winter.
When touring Sedona check out some of their other upcoming events we've shared below: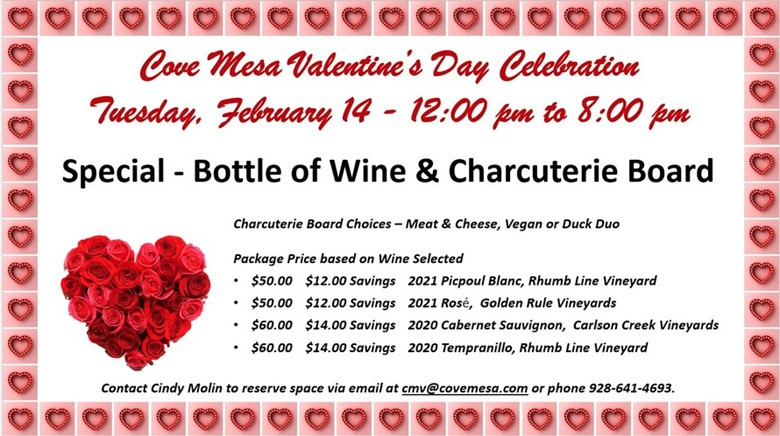 _______________________________________________________
Jan 2023: Highlighted Tours
The Historic Downtown Flagstaff Microbrewery Tour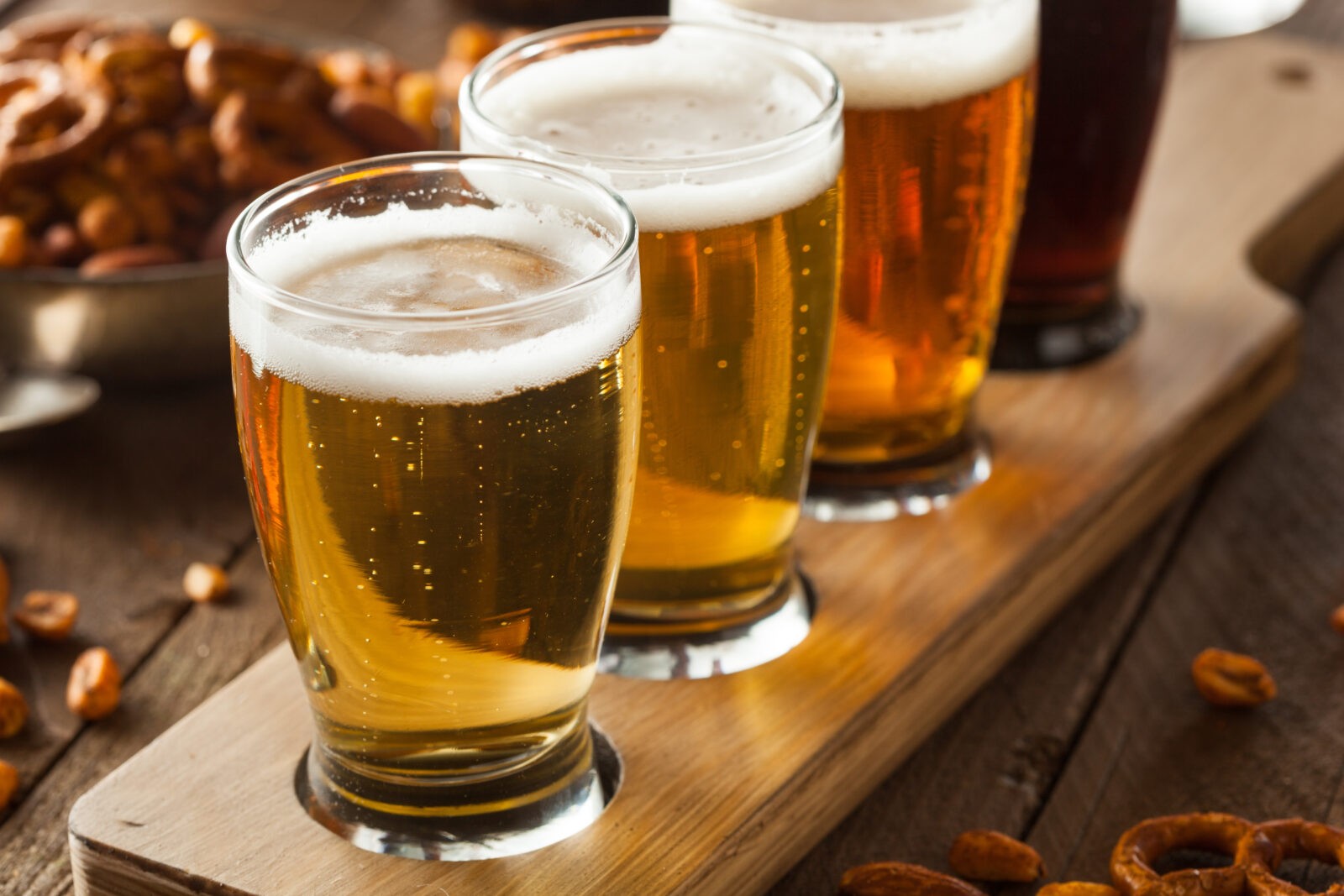 We love our wine, but sometimes beer calls to us and we must heed that call! Sedona breweries are a definite good time but for those who'd like to venture outside the red rocks, Wine Tours of Sedona offers a four hour tour where we visit 2-4 locations in Flagstaff including Beaver Street Brewery, Flagstaff Brewing Company, Lumber Yard Brewing Company, Mother road Brewing Company, Dark Sky Brewing Company and Historic Brewery. It is said that spilling a beer is the adult equivalent of a child letting go of a balloon. We're here to help prevent that pain for you.
Northern Arizona Scenic Micro-Brewery Tours
Scenic Sedona Sunset Adventure
Seeing a sunset firsthand can very much be that magical moment I wished for you in my newsletter greeting because the sunsets in Sedona are truly something special. You can enjoy any one of our wine tours beforehand and then include this amazing experience as part of your Sedona wine adventure. As inspiration for one of your tours in Sedona, enjoy this poem by Ella Wheeler Wilcox:
"I saw the day lean o'er the world's sharp edge,
And peer into night's chasm, dark and damp.
High in his hand he held a blazing lamp,
Then dropped it, and plunged headlong down the ledge.
With lurid splendor that swift paled to gray,
I saw the dim skies suddenly flush bright.
'Twas but the expiring glory of the light
Flung from the hand of the adventurous day."
Sedona Red Rock Adventure Tours
Chocolate & Majestic Red Rock Formations: A Day of Fun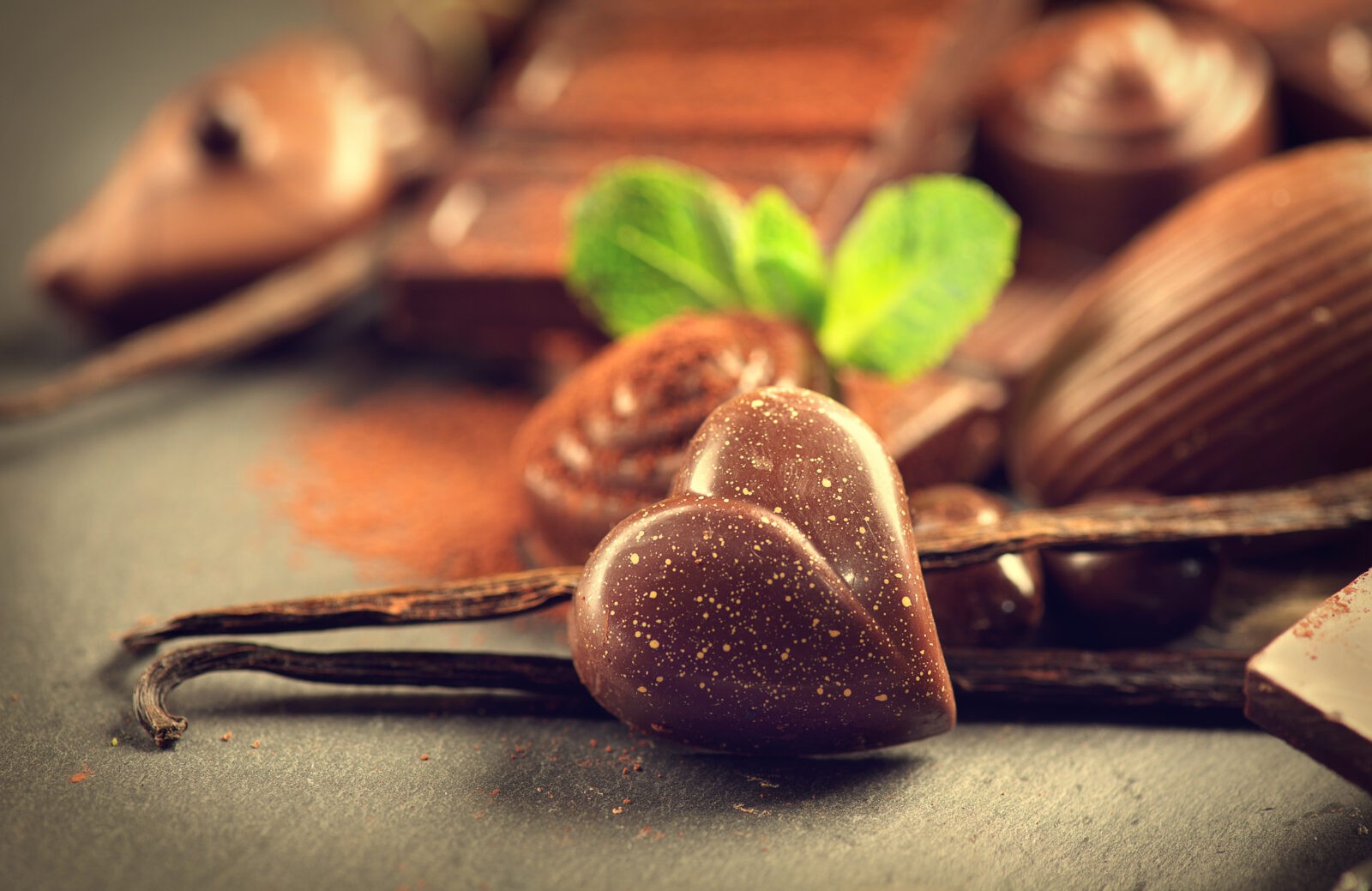 Although at Wine Tours of Sedona our specialty is…well…WINE tours, there is nothing better to pair with wine than chocolate! Next to nature and wine, the love of raw chocolate is close to my heart. So, if you'd like to experience something totally unique in Sedona, we recommend taking this chocolate ride with us. "Raw chocolate" means that the cacao isn't heated above 108 degrees Fahrenheit during the creation process preserving the antioxidant qualities of the cacao. Our locally made chocolates are gluten, soy, chemical and dairy free, meaning they are free of the ingredients that dumb down the power of cacao. When you join us for one of these tours in Sedona you will not only learn about the geological wonders of why our rocks are red but you'll also get to enjoy some of the most delicious, nutritious chocolates available to humankind.
________________________________________________________
Jan 2023: Upcoming Events
At Wine Tours of Sedona we deeply appreciate the Arts of all kinds, beginning with the art of wine making. We love our local businesses and all they have to offer. We include the surrounding areas of Sedona when we refer to our beautiful town and Cottonwood is up and coming with all the wineries and tasting rooms, restaurants and entertainment too. Some of the best musicians in the world actually visit the Sedona area and make an appearance in Cottonwood at the Old Town Cottonwood Center for the Arts also known as OTCA. Everything from classical music, to rock and roll, new age, Native American, dance performance, live comedy, theatrical performances and even independent films in conjunction with the Sedona International Film Festival can be found during the fall through spring seasons at OTCA. We've included a link here for your convenience to take a peek at their offerings so you can include a visit to their venue to add to your unique experience while touring Sedona.
_________________________________________________________
Pets, Gift Certificates and Complimentary Photos
Get 10% off your tours of Sedona when you bring your pet!
At Wine Tours of Sedona we are super pet friendly. We love our human clients and their fur babies too. Bring your pet along for one of our premiere wine tours and receive 10% off any tour. We will customize the tour to accommodate all the animal friendly wineries. While enjoying Sedona wines, your pet will get the royal treatment and not be left behind.
Gift Certificates Available
Whether it's a holiday gift or a special occasion, Wine Tours of Sedona offers year round gift certificates for your favorite people. Unique, crafted, inclusive, educational and FUN!
You can order online at:
https://winetoursofsedona.com/sedona-red-rock-adventure-tours/
Scroll down to the bottom of the wine tours list and click "Gift Certificates"
OR Contact Jim Reich:
Office: 928-204-1473
Google Voice: 928-224-2991
Toll Free: 866-445-3732
You can always email us at:
info@winetoursofsedona.com
Complimentary Digital Photos
We offer complimentary digital photos on all our tours! To see your tour photos visit:
www.sedonaazwine.com. You just enter the name of the tour you took with us. Photos are logged by your name and most recent date of the last tour. Enjoy! It is our pleasure to share Sedona wines and Sedona breweries with you.